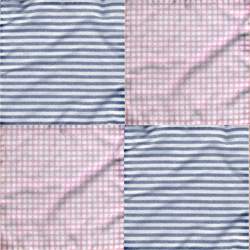 "Keepers"

Quilts I have made and kept...for now.

Dresden Sham

   After purchasing an antique quilt in the Dresden plate pattern with authentic 1930's fabric (that we use on our CA king bed in the summer), I decided to make a pillow sham (runner) using the same pattern and '30's replica fabric.    Over the period of about a year (during more than one train trip and while relaxing on the patio), I hand basted fabric to paper templates and stitched the pieces together.  Then I hand appliqued the plates to muslin fabric, machine quilted 1/4 inch inside each piece and an inch crosshatch over the background.

    (completed June 17, 2007, exhibited in the 2007 Annie's Star Quilt Show)

Grandma's Flowers

Over the last 10 years or so I have basted fabric to paper hexagons (many were made on drives to and from Fort Bragg, CA and various train trips) for a "Grandma's Flower Garden" quilt.  Two years ago I sewed the hexagons into flowers and appliqued them to squares of muslin, connecting the squares with sashing and making 4 appliqued vine borders.  Today (June 19, 2007) I attached the borders and have begun connecting the vines and appliqueing flowers to the corners.  

Hopefully I will complete the top this week and get it pinned to batting and backing so it will be ready to quilt.  Whew!!!  Some projects take longer than others and some are put in the UFO (UnFinished Objects) box to be completed at later dates.  I still have 6 UFO's in the box.  It seems graduation, wedding, baby and retirement quilts have taken priority!!!

(exhibited in the 2007 Annie's Star Quilt Show)

Lemons

Applique and Handquilting by

Peggy Arms

June 1997